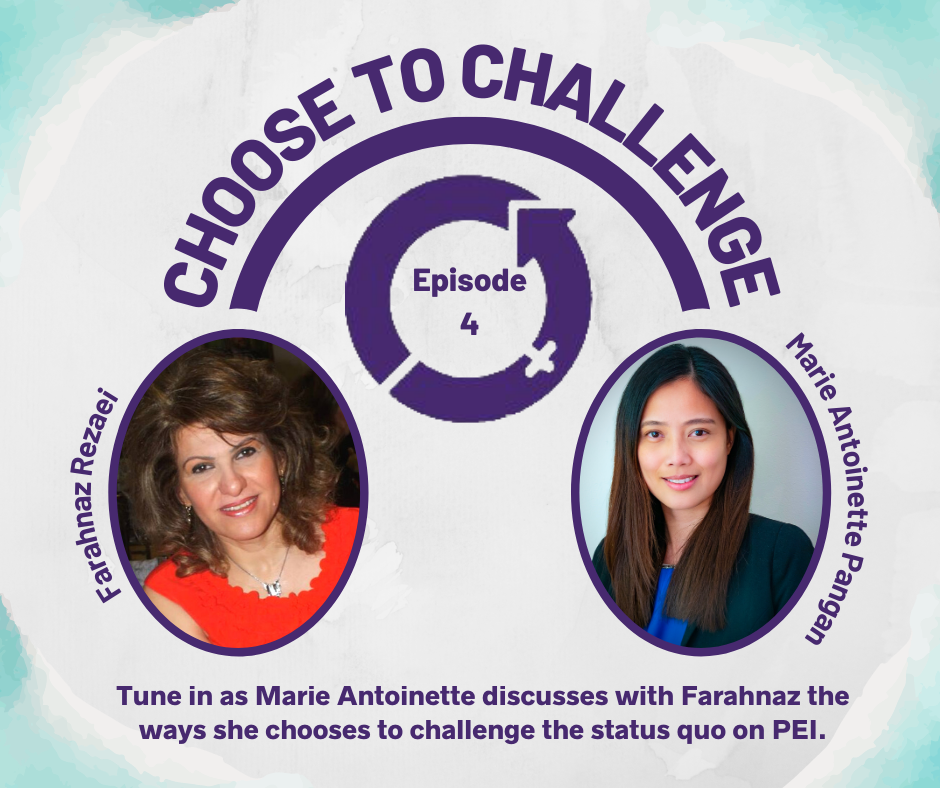 These remarkable women spoke of their experiences as newcomers to PEI and the challenges they have overcome in becoming Canadian citizens:
The journey of arriving in PEI as a temporary foreign worker to becoming a registered nurse.

Obstacles and supports experienced from the PEI community.

The imperative for women to be recognized as having equal human rights and given opportunities to thrive.

Diversity is what will sustain our PEI communities.

The significance of International Women's Day the world over.
Their bios:
Marie Antoinette Pangan
I am Marie Antoinette G. Pangan, also known as Ma-An by the Filipino community in PEI. I came to PEI as a temporary foreign worker (TFW) in 2010 to work at a fish plant in Bloomfield. I worked several jobs while initiating the permanent residency process. In 201 I was granted Canadian permanent residency and decided to enroll in a nursing program at UPEI, where I graduated as valedictorian of my class. Currently, I work as a Registered Nurse at Queen Elizabeth Hospital.
Farahnaz Rezaei
Farahnaz works at the office of Immigration in Prince Edward Island, facilitating newcomer's settlement, engagement, and integration; She has also worked closely with the Association for Newcomers to Canada in Prince Edward Island (PEIANC), delivering resettlement programs to the Syrian refugee families. Her previous work and training with the High Commissioner for Human Rights Arabic Fellowship Program (OHCHR) and non-governmental organizations in the field of protecting human rights and promoting the nonviolent transformation of conflicts, made her a dedicated advocate for women's rights, human rights, diaspora, religious' minority's rights, gender equality, and multifaith activities in the Middle East. She has been an active member for various national and international organizations such as Women Cultural Social Society, UNDP, "Women Without Frontiers (WWF), the Management Centre of the Mediterranean, and the International Migration Organization (IOM).
She is an active volunteer in the PEI community and deeply passionate about initiatives that support the development and advancement of cultural diversity, intercultural dialogue, and interfaith inclusion. In 2018, she was selected as one of the Top 25 Immigrants in the Maritimes by My East Coast Experience.