Charlottetown Memorial Service
~ In-Person
Candle Lighting for Victims of Violence
Tuesday, December 6, 2022
12:00 noon to 1:00 p.m.
Memorial Hall
Confederation Centre of the Arts
Charlottetown
Guest speaker Eileen Conboy
"Restoring Community After Sexualized Violence"
Commissioned performance by poet Tanya Davis.
Contributions by:
Cathy Rose, Chairperson of the Advisory Council on the Status of Women and event emcee
Indigenous elder Julie Pellissier-Lush
Musician Carlie Howell, and
Pianist Todd MacLean
Open to the public, as public health guidelines allow. Masks recommended.
_________________
Zoom Livestream of Memorial Service (by registration only)
Register by 4:00 p.m., Monday, December 5 to 902-368-4510 or [email protected].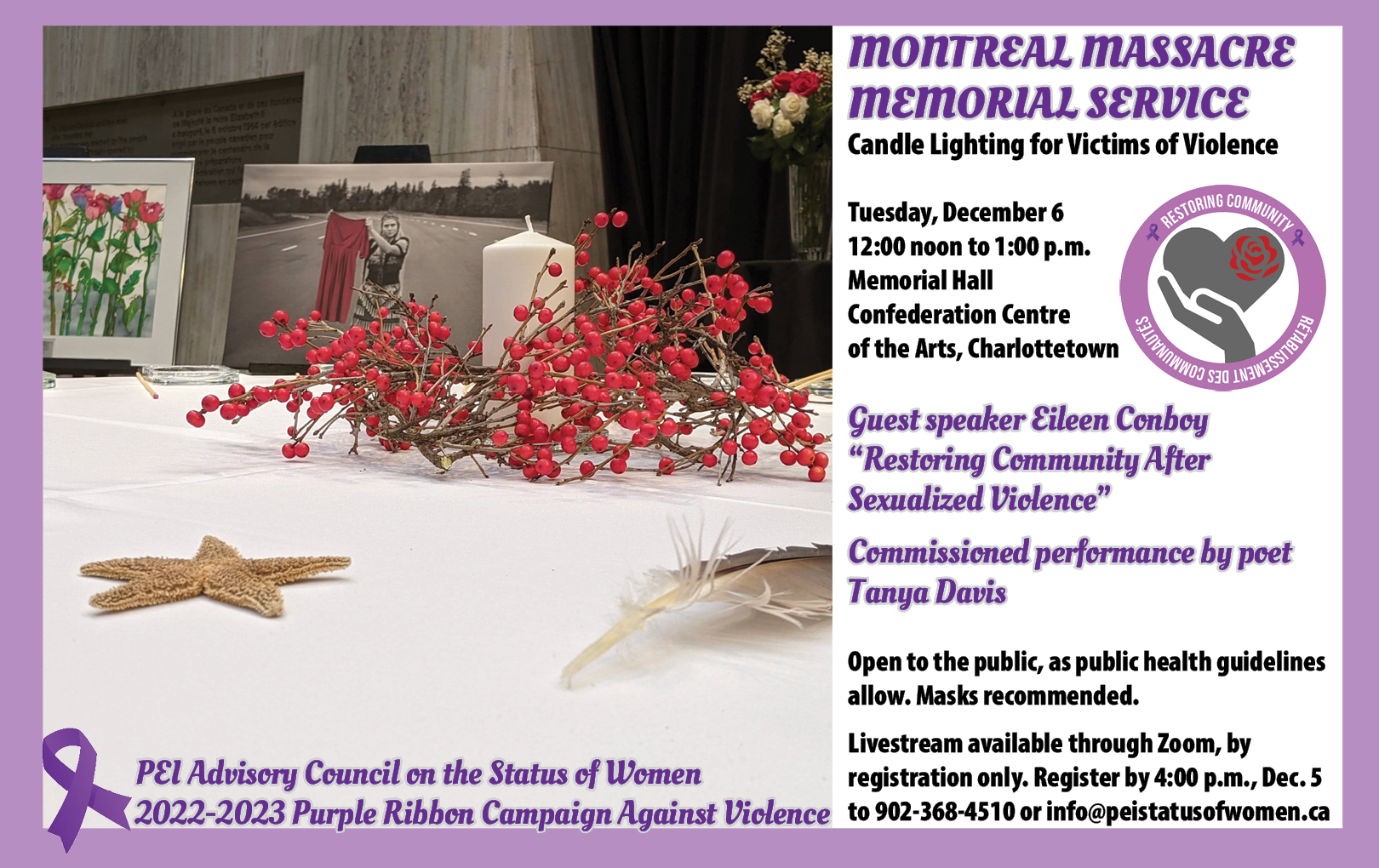 RESTORING COMMUNITY:


Hope for Survivors ~ Help for Abusers ~ Healing, Accountability, and Equality for All
The 2022-2023 Purple Ribbon Campaign theme reflects the many challenges experienced in recent years and the role we have in restoring resiliency, safety, and health to our communities. There is damage to us all when individuals use and experience violence, and the entire community needs to heal through hope, help, and accountability.
The purple ribbons are worn in honour and remembrance of the 14 women murdered in Montreal in 1989, and the 10 women murdered in PEI since 1989 by someone who knew them. We also wear purple ribbons as a call for justice for the thousands of murdered and missing Indigenous women and girls in Canada. Thousands of ribbons are cut and pinned to information cards by volunteers, so that they can be distributed to individuals and organizations across the Island. We are especially appreciative of Women's Institute members, who will pin more than 10,000 ribbons to bookmarks in 2022.
In addition to the purple ribbons and bookmarks, we have produced badges (or buttons) with the rose and hand image, and multilingual posters featuring the Restoring Community message in 12 languages (historical and current usage in PEI). Slideshows and other materials developed for use by teachers and students, including the Teen Power & Control Wheel, are available on our website: https://peistatusofwomen.ca/purple-ribbon-campaign/resources-for-teachers/
All resources created in 2022 and in previous years are available on request – we are happy to share the message of equality and violence prevention to individuals and communities across PEI.
---
Summerside Memorial Service
~ In-Person
Candle Lighting for Victims of Violence
Tuesday, December 6, 2022
12:00 noon
Summerside Baptist Church
219 Church Street
Summerside
Guest Speaker
Karen MacCarville
Family Violence Prevention
Contact the East Prince Women's Information Centre for details.