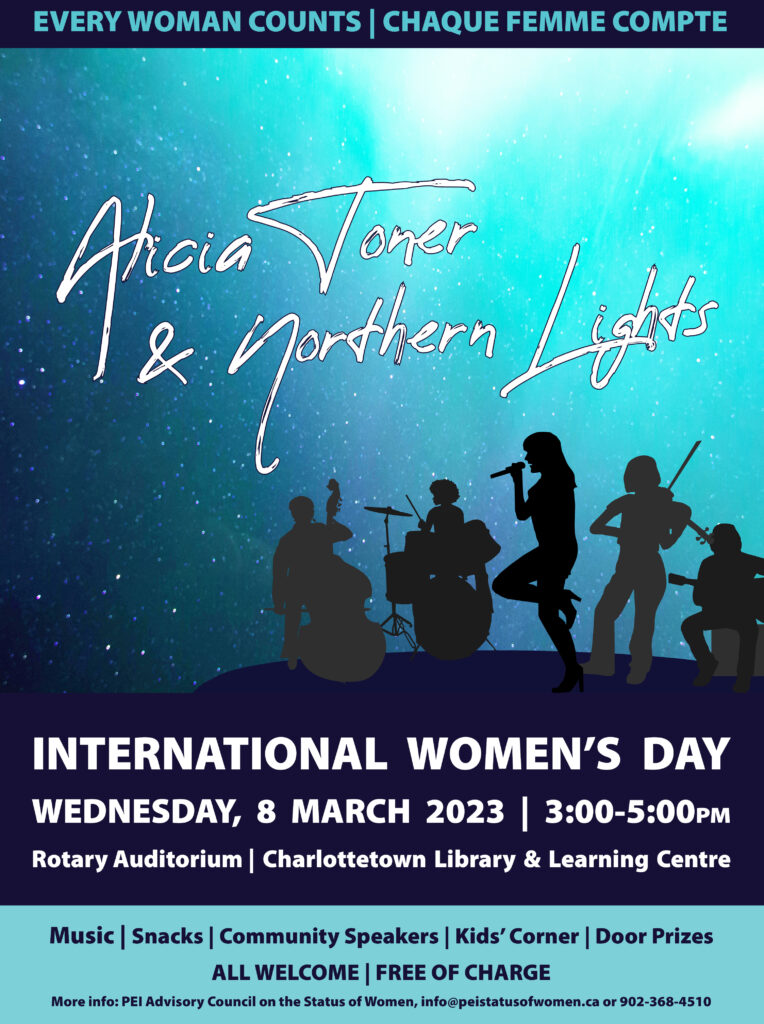 It's time to reunite and reignite!
We are super-excited to be returning to in-person celebration of International Women's Day! Join us, March 8th, at the Charlottetown Library Learning Centre! All welcome, details below:
Members of the PEI Advisory Council on the Status of Women are delighted to be hosting an in-person International Women's Day (IWD) celebration on Wednesday March 8, from 3:00-5:00pm in the Rotary Auditorium of the Charlottetown Library and Learning Centre. It's time to reunite and reignite for gender equality!
The IWD 2023 theme of Every Woman Counts / Chaque Femme Compte speaks to resiliency, hope, and the insistence that every woman, everywhere, has an inherent, undeniable value. March 8 is a day to celebrate the achievements, strength, and worth of women, and also a day to advocate for safety, equity and protection of human rights for women and girls globally.
The afternoon will begin with an invitation to Indigenous Round Dance, led by sisters Sophia and Ellie Bourque. Alicia Toner and members of Northern Lights, the all-star, all women-and non-binary-identifying band  who are performing as part of the Canada Games Illumination Festival will get t ings rocking. Newly appointed PEI Poet Laureate Tanya Davis will perform her incisive and aspirational poem "Restoring Community." Community leaders will share information about initiatives that are happening in PEI, and as usual, the afternoon will end with singing the well-loved IWD anthem, "Bread and Roses."
International Women's Day celebrations are open to the public, free of charge. People of all genders and identities are welcome. We also encourage children to attend; there will be a kids' corner set up with activities for them. IWD trivia, door prizes, and snacks will be part of the festivities. Choosing to wear a face mask is welcome but not required.
Date: Wednesday, March 8, 2023
Time: 3:00 to 5:00 p.m.
Location: Rotary Auditorium, Charlottetown Library and Learning Centre, 97 Queen Street, Charlottetown, PEI
For further information:
Michelle Jay, PEI Advisory Council on the Status of Women
(902) 368-4510 (office) – [email protected]
IWD PEI Related Links:
THANK YOU:
A big International Women's Day THANK YOU to everyone who came out to celebrate together March 8th! We were blown away by how many people came to listen, learn, and be entertained as we continue to strive for gender equality. We have such a deep pool of talent, heart, and commitment on PEI – it is beautiful.
Wela'lioq to all our wonderful sponsors and supporters of International Women's Day 2023.
Appreciation to our amazing IWD volunteers: Hsiao Yu Liu, Barb McDowall, Garima Mishra, Jan Devine, Katie Baker, Bella Jay and Jettlyn Cash, and Donna Dingwell.
Organizational support in the form of staff time and skills from Women's Network PEI (AinZ Kendrick, Megan Dorrell and Jill Olscamp); Cooper Institute (Marie Burge and Ann Wheatley); and PEI Coalition for Women in Government (Sweta Daboo, Kari Kruse and Sarah Oultram).
Financial support is critical and PEI unions are faithful and generous contributors: UPSE, PSAC, CUPE, and the Federation of Labour. Also, we thank the Interministerial Women's Secretariat team for their contribution.