Family Violence Prevention Week 2021
February 14 to 20, 2021
The theme for Family Violence Prevention Week 2021 is Connecting Differently.
Wednesday, February 17th is Wear Purple Day
Islanders are encouraged to wear purple to raise awareness of the campaign, to remember victims of violence and their families and to demonstrate that violence in any relationship is not acceptable.
Resources and Community Funding
For more information: Family Violence Prevention Week 2021 Campaign
---
Related Event/Information
From Surviving to Thriving – What Do Survivors Need?
Friday, February 19, 12:00 noon to 1:00 pm
This online (Zoom) lunch and learn will share wisdom from survivors of trauma and violence about what government and community supports they need to move from surviving to thriving in their lives. The session will include a roundtable discussion of what survivors need to thrive. No one has to identify publicly as a victim or survivor to participate. Hosted by Women's Network PEI and the PEI Advisory Council on the Status of Women. Open to all.
Please register by getting Eventbrite tickets at the following link:
All those who are registered will receive the Zoom link the morning of the event.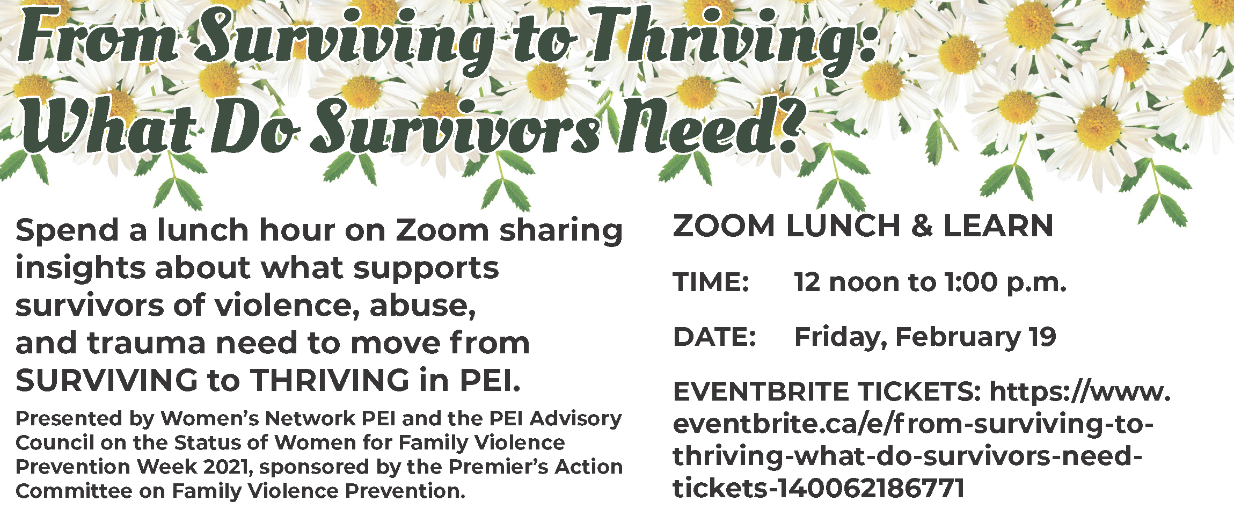 ---
Purple Ribbon Campaign Online Resources for Preventing Violence
The PEI Advisory Council on the Status of Women invites you to use online resources created for the Purple Ribbon Campaign Against Violence to reflect and educate yourself and others throughout Family Violence Prevention Week.
Powerful video commemoration of the 2020 Montreal Massacre Memorial Service for victims of violence, https://vimeo.com/487804493, including:
– A profound poem by a survivor of violence, beginning at 06:18
– A commentary by Chairperson Debbie Langston, beginning at 08:37
– A keynote speech by Roxanne Carter-Thompson, beginning at 22:05
– Candlelighting for victims of violence, beginning at 29:45
Text versions of key messages from the Purple Ribbon Campaign and Montreal Massacre Memorial, including:
– An anonymous survivor's poem, "When you looked at me, did you see me?" https://peistatusofwomen.ca/2020/12/16/poem-by-a-survivor
– Debbie Langston's commentary, "Where Violence Persists, What Women Do / Là où la violence persiste, ce que font les femmes" https://peistatusofwomen.ca/2020/12/05/dec-6-2020-commentary/
– Roxanne Carter-Thompsons speech, "Supporting Survivors Saves Lives" https://peistatusofwomen.ca/2020/12/16/supporting-survivors-saves-lives-speech-by-roxanne-carter-thompson/
Slideshows for teachers and educators to present, on topics including supporting survivors, healthy relationships, consent, and ways youth can help prevent violence: https://peistatusofwomen.ca/purple-ribbon-campaign/resources-for-teachers/
Look also for a new commentary by Chairperson Debbie Langston for Family Violence Prevention Week, posted in English and in French at this link: Even in February, December 6th Is Important / Même en février, le 6 décembre est une date importante