Les balados «Choisir de défier» sont maintenant disponible à l'occasion de la Journée internationale des femmes! Le cinquième épisode de cette série présente Michelle Arsenault, une «pure acadienne», fière de ses origines et de sa langue, une femme indépendante pour qui l'engagement communautaire est une passion. Interviewée par Marine Ernoult, journaliste française récemment arrivée à l'Î.-P.-É., Michelle partage avec émotion des tranches de sa vie. «Je souhaite que chaque femme ait le courage de faire ce qui la passionne, qu'il n'y ait pas de défi d'être une femme, je souhaite vivre dans une société où les femmes n'aient pas à s'inquiéter de faire ce qu'elles veulent», nous dit-elle.
Our final episode of the IWD podcasts has been created in partnership with our francophone sisters from Actions Femmes. The English description follows the French.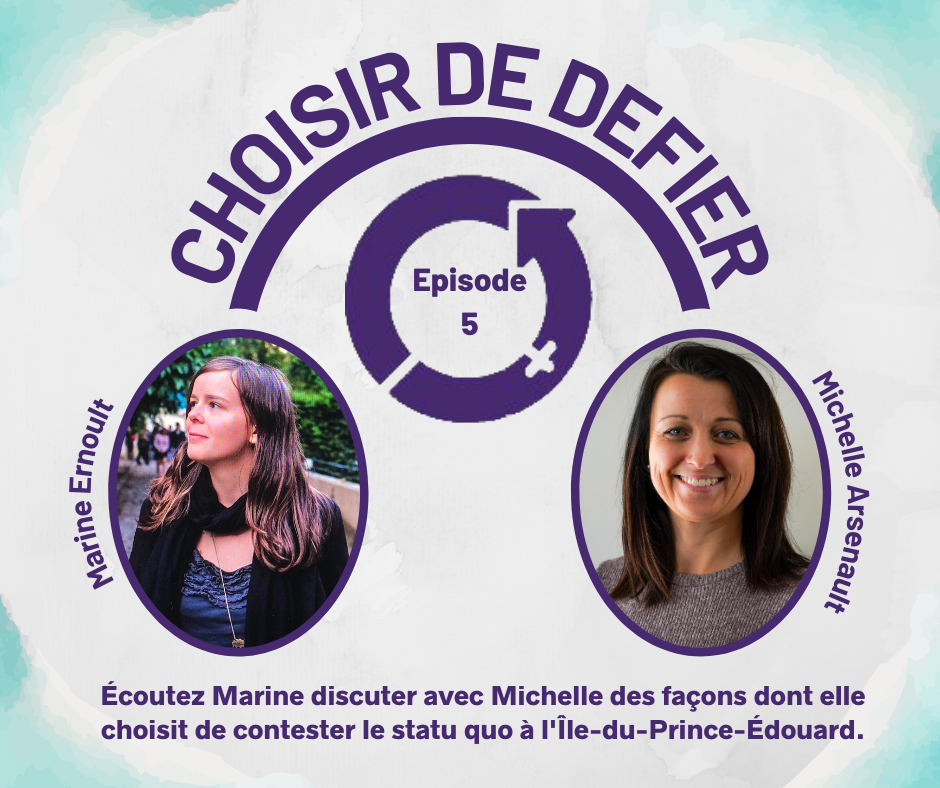 Michelle nous parle :
Des défis de sa vie de jeune maman,

De la transmission de ses valeurs, de sa culture et de sa langue,

De son engagement communautaire,

 

De sa carrière professionnelle qui l'a conduite jusqu'à des postes à responsabilités.
Écoutez leur épisode maintenant.
Leurs biographies :
Michelle Arsenault «une pure acadienne». C'est ainsi que se définit Michelle Arsenault. Originaire de la région Évangéline, comme ses parents et ses grands-parents avant elle, la Prince-Édouardienne vit toujours à Abram-Village. À 37 ans, la directrice de Service Finances Î.-P.-É. a relevé de nombreux défis que ce soit dans sa vie personnelle ou professionnelle.
À 17 ans, alors qu'elle est en 11ème année à l'école Évangéline, Michelle tombe enceinte. Un événement qui oblige la jeune fille «timide et réservée» à «maturer un peu plus vite que les autres». Mais elle ne lâche rien et mène de front ses études et sa vie de jeune maman. Pour Michelle, la naissance de sa fille est un déclic. L'Acadienne prend conscience de l'importance de transmettre sa culture, sa langue et ses valeurs.
Diplômée de l'école Évangéline, Michelle poursuit des études d'adjointe administrative bilingue au Collège de l'Île. Son diplôme en poche en 2003, elle travaille pendant quatre ans à La Voix acadienne où elle se perfectionne en comptabilité. Toujours à la recherche de nouveaux défis, elle devient adjointe administrative à la Coopérative d'intégration francophone. Après de brefs passages au sein des gouvernements provincial et fédéral, elle réalise que ce n'est pour elle.
La défense des intérêts de la communauté francophone et acadienne lui tient trop à coeur. En 2009, elle intègre donc la Société acadienne et francophone de l'Île-du-Prince-Édouard comme adjointe administrative, avant de grimper les échelons et de devenir directrice du nouveau Service Finances Î.-P.-É. quatre ans plus tard. Animée d'un fort désir d'apprendre, Michelle suit également des cours du soir à l'Université de l'Î.-P.-É. où elle obtient un certificat en affaires.
Aujourd'hui à la tête d'un service innovant qui offre des prestations à des organismes communautaires, impliquée dans plusieurs conseils d'administration, Michelle a toujours des projets plein la tête. Elle travaille notamment à la mise en place d'un service partagé en ressources humaines pour les organismes communautaires francophones.
Marine Ernoult
Marine, née à Marseille dans le sud de la France, a toujours voulu devenir journaliste, mais est passée par des chemins de traverse pour réaliser son rêve. En 2013, après une maîtrise en droit de l'environnement, puis une autre en droit de l'urbanisme, elle part voyager un an le long des fleuves emblématiques du monde. Cette expérience lui donne le goût du reportage et lui fait prendre conscience de la nécessité de changer de voie. Après une courte expérience de juriste dans un syndicat agricole, elle décide de reprendre ses études en 2016, à l'âge de 29 ans, pour réaliser une troisième maîtrise, cette fois en journalisme.
Diplômée en 2018, elle débute sa nouvelle carrière comme reporter dans un journal local en Alsace, dans l'est de la France. Un an plus tard, nouveau changement et nouveau défi, elle décide de partir avec son conjoint Laurent, lui aussi journaliste, au Canada.
Arrivée à l'Île-du-Prince-Édouard en septembre 2019, elle commence rapidement à travailler comme pigiste pour le journal local La Voix acadienne, mais aussi pour l'Association de la presse francophone ou Francopresse. Elle écrit également des piges pour le quotidien national français Libération, notamment sur l'érosion.
Pour Actions Femmes ÎPÉ, elle réalise la série d'articles long-format Féminins PluriElles, sur les défis rencontrés par les femmes acadiennes et francophones de l'Île.
The fifth episode of this series presents Michelle Arsenault, a "true Acadian", an independent woman proud of her origins, her language and her community. Interviewed by Marine Ernoult, a French journalist who recently arrived in PEI, Michelle shares precious moments of her life.
She tells us about:
The challenges of being a young single mother;

The transmission of her values, culture and language;

Her community involvement;

Her professional career which has led her to take many responsibilities.
"I wish that all women have the courage to do what they are passionate about, that being a woman is not a challenge. I wish to live in a society where women do not have to worry about doing what they want", Michelle says forcefully.
Their bios:
"A pure Acadian". This is how Michelle Arsenault defines herself. Born and raised in the Evangeline region, like her parents and grandparents before her, the Islander still lives in Abrams Village. At 37, the director of Service Finances Î.-P.-É. has taken up many challenges, whether in her personal or professional life.
At 17, in grade 11 at Evangeline School, Michelle became pregnant. An event which forced the "shy and reserved" young girl to "mature a little faster than the others". She did not give up and handled her studies and her life as a young mother simultaneously. For Michelle, her daughter's birth was a stimulus. The Acadian woman realized the importance of transmitting its culture, language and values.
After her graduation from Evangeline School, Michelle pursued her studies in the bilingual administrative assistant program at Collège de l'Île. In 2003, she started to work for four years at La Voix acadienne where she improved her accounting skills. Always looking for new challenges, she became an administrative assistant at the Francophone Integration Cooperative, before working shortly for the provincial, and the federal government's and realizing she needed something else.
Championing for the cause of the francophone and acadian community meant too much to her. Thus in 2009, she joined the Acadian and Francophone Society of Prince Edward Island as an administrative assistant, before climbing up the ladder to take the lead of the new Service Finances Î.-P.-É. four years later. Always wanting to learn new things, Michelle also took evening classes at the University of PEI, where she passed a certificate in business.
Today she heads an innovative organization that provides services to community organizations, and is involved in several boards. Michelle is a passionate woman with a head full of ideas. She is currently working to set up a shared human resources service for the francophone community organizations.
Marine Ernoult
Marine, born in Marseilles, south of France, always wanted to be a journalist, but she took side roads to make her dream come true. In 2013, after a master in environmental law, and another one in urbanism law, she took off for a one-year trip along nine iconic rivers in the world. This experience gave her an appetite for reporting and made her realize she needed to change her path. After a short job as a jurist in a farmers union, she went back to school, again, in 2016 and at the age of 29, for her third master, in journalism this time.
Graduated in 2018, she started to work as a reporter in a local newspaper in Alsace, east of France. One year later, new change of direction and new challenge, she decided to immigrate, with her partner Laurent, a journalist too, to Canada.
She arrived on Prince Edward Island in September 2019, and started rapidly to work as a freelancer for the local newspaper La Voix acadienne, for the Francophone Press Association and for Francopresse. She also wrote some articles for the France-based national newspaper Libération, particularly about erosion.
For Actions Femmes ÎPÉ, she wrote the long-from series Féminin PluriElles, about the challenges faced by francophone women on the Island.