Look for a special online Lunch & Learn series in 2021-2022 on gender-based equity and justice issues.
First up: Lunch & Learn on the Feminist Recovery, with guest presenter Anjum Sultana from YWCA Canada on June 18th at 12:00 noon Atlantic Daylight Time.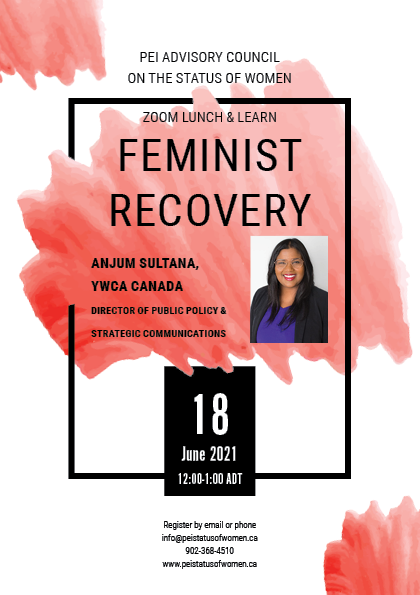 In Canada, the COVID-19 pandemic has had significant impacts on women, Two-Spirit and gender diverse people, particularly those who are low-income, people with disabilities, are members of the LGBTQ+ communities, belong to Indigenous, Black, or racialized communities or are newcomers, refugees, immigrants and migrants. More than half of COVID-19 cases and deaths in Canada have been experienced by women, yet at the same time women have faced disproportionate job loss, an increase in domestic violence due to lockdowns, and an intensification in unpaid work.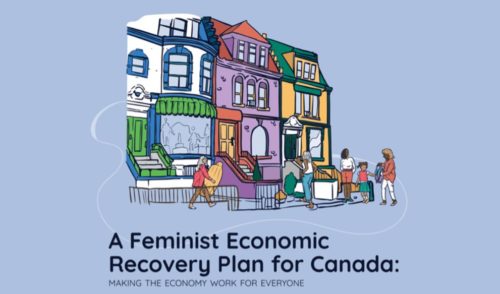 YWCA Canada and The Institute for Gender and the Economy at the University of Toronto's Rotman School of Management have partnered to create a Feminist Economic Recovery Plan for Canada, which proposes a new path forward for Canada's economy – one that focuses on changing the structures and barriers that have made some groups more vulnerable to the pandemic and its fallout than others. The report highlights 8 pillars for recovery with a focus on supporting the care economy, investing in social infrastructure and supporting women-owned businesses.
Join Anjum and members of the ACSW to discuss the feminist recovery and what is required to ensure no one is left behind.
Host: the PEI Advisory Council on the Status of Women
Presenter: Anjum Sultana, YWCA Canada
Director of Public Policy & Strategic Communications
Friday, June 18, 2021
12:00 noon – 1:00pm (ADT)
Online – Zoom
Register by email or phone:
[email protected]
902-368-4510
Download Printable Poster: PDF