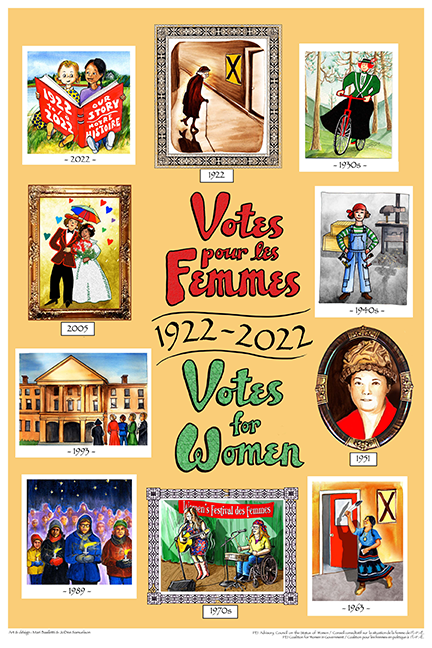 The PEI Advisory Council on the Status of Women and the PEI Coalition for Women in Government are delighted to unveil a poster to celebrate a 100-year journey of PEI women voting, with art and design by artists Mari Basiletti and JoDee Samuelson. This year marks the centennial of non-Indigenous PEI women winning the right to vote.
Executive Director Jane Ledwell gave the following comments at the poster's unveiling on May 7, 2022:
Kwe, bonjour, hello. What a beautiful afternoon in Epekwitk in Mi'kmaki. On behalf of the PEI Advisory Council on the Status of Women, I am delighted to take part in this event recognizing 100 years since non-Indigenous PEI women won the right to vote.




In March of this year, our Council members and staff had our heads down working on projects for International Women's Day and preparing our Equality Report Card, when we realized that we had no plans for the centennial of gender being removed as a barrier to voting in PEI. The anniversary date of May 3rd was coming soon. So we conspired with Sweta Daboo from the Coalition for Women in Government to determine what we could do to celebrate the centenary, and we settled on a poster design that we could create and offer as a gift to the province of PEI in honour of the landmark date.




We brought our artist friends into the conspiracy, Mari Basiletti, a past Chairperson of our Council and an accomplished artist and watercolourist, and her partner JoDee Samuelson, an animated filmmaker, artist, and poster/map-maker of some renown. 




Together, we developed our vision of a poster that would tell the story of gender being removed as a barrier to voting, but not in a unitary way – not as an ending to a finished story. We wanted to depict waystations on the pathway to inclusion and and democracy, toward the inclusion of all women, all systemically excluded groups, and, of course, all women from systemically excluded groups. We wanted an image for each of the ten decades of the last hundred years, depicting some individual moments, yes, and some recognizable milestones as well, but also some of the ongoing struggles and everyday women in the community. One thing that touched us very much in the final design was that as Mari and JoDee depicted more recent decades, they depicted events they themselves took part in and movements they contributed to. And we hoped that other PEI women would see themselves and their mothers and grandmothers across the decades.




We are so pleased to share with you the poster design, to unveil the vision the artists came up with, an image for each of the ten decades, showing emancipation and struggle, celebration and grieving, growing, working, changing, and, of course, voting — and, finally, telling our stories. Thank you to Sweta and Mari and JoDee, to our Chairperson Cathy Rose and Council staff members Michelle Jay and Becky Tramley, and to our Council members. Thank you to Erin and Sam and the PEI Museum and Heritage Foundation for the encouragement and support.

We are scheming on ways to print and distribute posters across PEI this year and to put together a lesson plan for PEI schools, using the poster images as conversation starters for classrooms. 




Wela'lioq, merci, and thank you to all who made the gift of this poster design possible.
Excerpt below is from the PEI Coalition for Women in Government Facebook page:
The PEI Coalition for Women in Government and the PEI Museum and Heritage Foundation are pleased to host a panel discussion and exhibit on the occasion of the hundredth anniversary of women gaining the right to vote on Prince Edward Island.

Livestream Link to the May 7, 2022 event and Panel Discussion: Centennial Celebration of Women Getting the Vote

(Note: The event begins at minute 14.25 in the video)