Charlottetown Memorial Service
~ In-Person
Candle Lighting for Victims of Violence
Wednesday, December 6, 2023
12:00 noon to 1:00 p.m.
Memorial Hall
Confederation Centre of the Arts (Venue Sponsor)
Charlottetown
Guest speaker Nikkie Gallant
"The Power of Words"
Musical performance by fiddler Anastasia DesRoches
Additional contributions:
Serena Smith, Chairperson of the Advisory Council on the Status of Women and emcee
Madlene Sark and Elder, Indigenous ceremony
Todd MacLean, pianist
Open to the public as public health guidelines allow. Masks optional.
_________________
Zoom Livestream of Memorial Service (by registration only)
Register by 4:00 p.m., Tuesday, December 5 to 902-368-4510 or [email protected]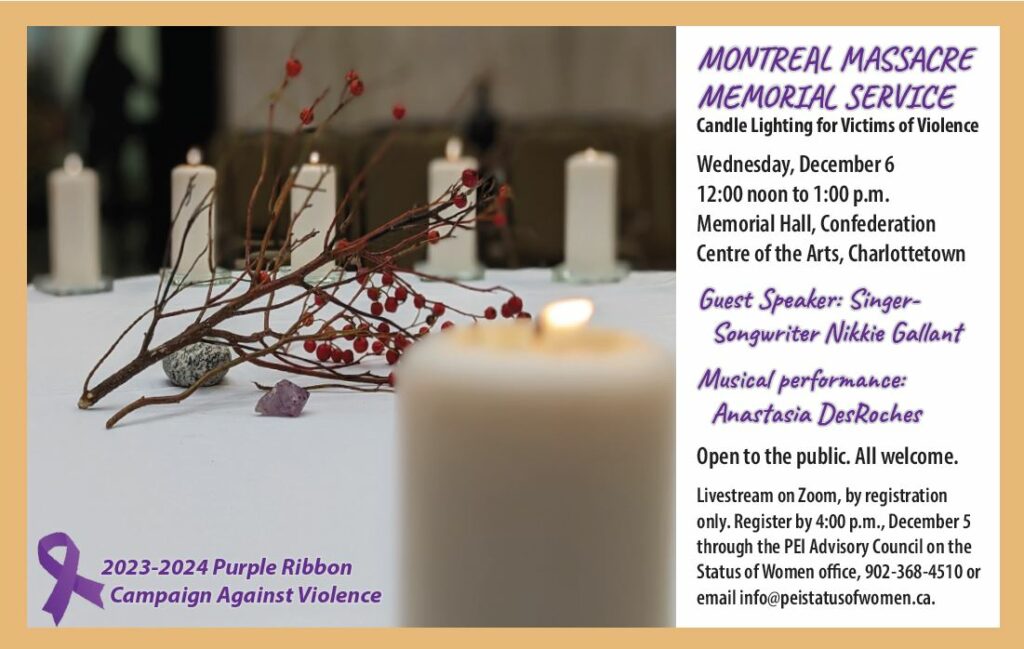 HEALING GENDER-BASED VIOLENCE

begins here
The 2023-2024 Purple Ribbon Campaign Against Violence theme speaks to the continuing challenge of ending violence. In recent years there has been a marked increase in gender-based violence being reported. Everyone, in every community in PEI, has a responsibility to prevent gender-based violence. It is only through communication, education, and accountability that healing for individuals, families, and communities can be achieved.
The purple ribbons are worn in honour and remembrance of the 14 women murdered in Montreal in 1989, and the 10 women murdered in PEI since 1989 by someone who knew them. We also wear purple ribbons as a call for justice for the tragic number of murdered and missing Indigenous women and girls in Canada. Thousands of ribbons are cut and pinned to information cards by volunteers, so that they can be distributed to individuals and organizations across the Island. We are especially appreciative of Women's Institute members, who will pin most of the 10,000 ribbons to bookmarks in 2023. WI members are also key in distributing the ribbons to communities across PEI.
In addition to the purple ribbons and bookmarks, we have created purple ribbon badges (or buttons), two stickers, and a multilingual poster featuring the violence prevention message in 12 languages (historical and current usage in PEI). Slideshows and other materials developed for use by teachers and students, including the Teen Power & Control Wheel, are available on our website: https://peistatusofwomen.ca/purple-ribbon-campaign/resources-for-teachers/
All resources created in 2023 and in previous years are available in hard copy on request – we are happy to share the message of equality and violence prevention to individuals and communities across PEI.
________________________________________________________

Summerside Memorial Service
~ In-Person
Candle Lighting for Victims of Violence
Wednesday, December 6, 2023
12:00 noon
Trinity United Church
90 Spring Street
Summerside
Guest speaker: Hon Barb Ramsay, Minister of Social Development and Seniors; and Shirley Anne Cameron singing and Tanya DesRoches on piano.
For more info contact: 902-439-7268.
________________________________________________________

December 6 Vigil – UPEI Faculty of Sustainable Design Engineering

December 6th is the National Day of Remembrance and Action on Violence Against Women, which marks the day in 1989 when 14 young women at Polytechnique Montreal (12 of whom were engineering students) were murdered in a violent act of misogyny which shook our country. A candle light vigil is being hosted on the UPEI campus in the Faculty of Sustainable Design Engineering building, Wednesday, December 6 at 10:00 am at the Academic Staircase, to honor those who lost their lives in this tragedy. A commemorative display will also be set up near the entrance all day for those who wish to write messages of reflection and hope. Light refreshments and snacks will also be provided following the ceremony.