The PEI Advisory Council on the Status of Women meets four to six times a year in communities across PEI. At meetings, members focus on issues important to the status of Island women, plan actions to advise the Minister Responsible for the Status of Women and her government, and organize events and publications to raise public awareness.
2022-2023 MEETINGS
May 27, 2022, Central Bedeque, PEI
The beautiful Rural Women's Business Centre hosted a full-day strategic planning session for Council members, who participated in person and virtually in setting out strategic priorities for the coming two years.
2021-2022 MEETINGS
March 24, 2022, Cornwall, PEI
Council members and invited guests (in person and via Zoom) celebrated the launch of the 2022 Equality Report Card with a media conference. The Equality Report Card awarded government a B+ for its work toward gender equality goals from the begining of its mandate in 2019 to the end of the assessment period in 2022.
January 11, 2022, virtual meeting
Council members met using Zoom for an intensive, productive consensus-building workshop to set draft assessments for the 2022 Equality Report Card. The Report Card is being prepared for release in March 2022 and will assess government progress towards gender equality and diversity goals from 2019 to 2021.
December 6, 2021, Charlottetown, PEI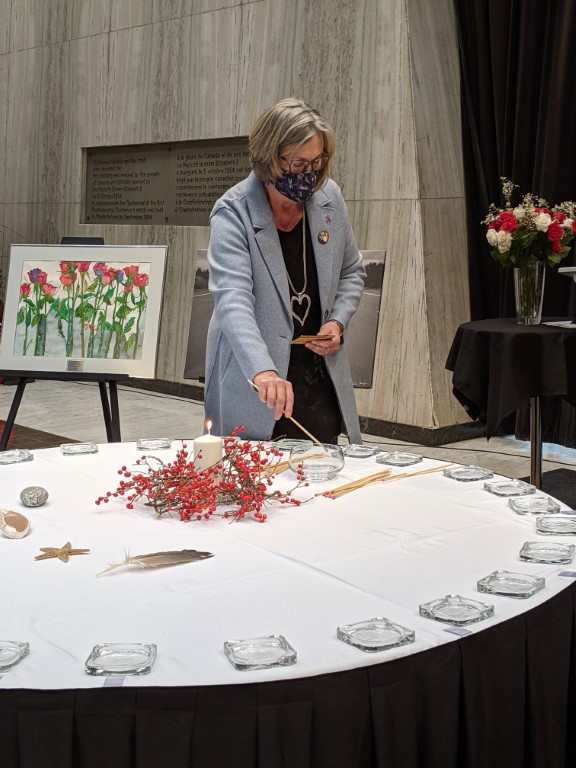 Members of the Council welcomed candlelighters, guests, and livestream participants to the 2021 Montreal Massacre Memorial Service for Prince Edward Island. Chairperson Cathy Rose lit a candle in honour of all victims and survivors of violence.
October 23, 2021, Brackley, PEI
Council members took part in a strategic planning retreat, getting to know each others' talents and priorities, and reflecting on inspiration, aspiration, and celebration related to the Council's work.
September 23, 2021, Bedeque, PEI
The September 2021 meeting of Council was held at the Rural Women's Business Centre in Bedeque, where Council members were happy to hear about the Centre's services from the PEI Business Women's Association. Members took part in a round-table discussion in preparation for the Equality Report Card and tuned in to a webinar on economic abuse, hosted by the Canadian Centre for Women's Empowerment (CCFWE).
June 22, 2021, Charlottetown, PEI
At the June meeting in Charlottetown, Council members had an opportunity to welcome Minister Responsible for the Status of Women Natalie Jameson. Each member took some time to speak with the Minister about the commitment that led her to apply to join Council and what she is most passionate about in Council's work. They also each presented on themes from the upcoming 2022 Equality Report Card and selected a theme for the 2021-2022 Purple Ribbon Campaign Against Violence Against Women.
May 21, 2021, Cornwall, PEI
At Cathy Rose's first meeting as Chairperson, she and other returning members welcomed new member Garima Mishra to the table. The Council learned about basic income guarantee from Shelby Downe of the PEI Working Group for a Livable Income and the Basic Income Canada Youth Network and also set priorities for future learning opportunities.