Where Violence Persists, What Women Do
Last year we gathered to commemorate the thirtieth anniversary of the Montreal Massacre, where fourteen women, students at l'École Polytechnique, were murdered because they were women. With our service of remembrance we paid homage to them and the countless women that have been murdered since that day in 1989. Today, the world looks very different than it did just eight months ago. And yet, the issue of violence against women and gender-based violence has not receded.
This year's theme for the Purple Ribbon Campaign Against Violence Against Women is "Support Survivors." When we think of survivors, we think of women who have been harmed by direct violence. Women who have been raped. Women who have been assaulted. Women who have been abused and harassed. Women who have been trafficked as slaves. Women who have been brutally victimized. Women, who have survived.
Indirect violence also harms women. All around the world women are harmed by the very systems that constitute the foundation of our societies. Women have had to fight for their place within these systems for centuries. We continue to fight, striving for meaningful change that will secure an equal place for our daughters and the generations of women who follow them.
In the past five years, a man who by his own admission assaulted women, was elected to become the president of the most powerful democracy in the world. We watched as he denigrated women and eroded women's abortion rights: the right of a woman to have dominion over her own body. And we marched.
In many parts of the world, mass migration has taken place, against the backdrop of xenophobia, ethnic cleansing, and poverty displacement. Migrants have sought refuge in countries where they are caged, and where children are torn from their mothers. Women and their families have been forced to leave their homes in Syria, Myanmar, and South America. Women have been faced with an unfathomable choice to protect their children, while the world turned away. And they fled.
As the world heats up and international efforts cool, the effects of climate change are taking hold. Floods, fires, and freak weather patterns ravage our planet. Homes are destroyed and lives turned upside down. A generation of youth fear an uncertain future. In the midst of it all, schoolgirls emerged as leaders. And we listened.
For decades our Indigenous sisters suffered in silence, their voices muted by systemic racism and oppression. Loved ones went missing, and were murdered; their communities and families were decimated by the violence perpetrated against their women. Promises were made, and promises were broken. Stories went untold by the media, crimes went uninvestigated, and lives went unvalued. And they cried out.
This year, 2020, is a year that will go down in the history books. A pandemic has lifted the veil on inequalities that have remained "hidden in plain sight" for a long time. COVID-19 has exposed a flawed patriarchal system where discrimination and oppression flourish. The most vulnerable members of our society, those most in need, have endured chauvinism, misogyny, racism, homophobia, transphobia, ableism, ageism, ad infinitum. For women whose identities meet at these intersections, the challenges are greater. The risks of poverty, marginalization, harm and the likelihood of violence increase with every checkmark on a list that signifies difference.
In a year marred by tragedy, the Portapique shooting in Nova Scotia stood out, where twenty-two lives were taken by a man with a known history of violence and aggressive behaviour, his long-suffering girlfriend the first of many targets. In a year when the Black Lives Matter movement, mobilized by police brutality and murder caught on camera, became a global protest for change, once again, women's lives became caught up in the repercussions and ensuing devastation. These are the effects of a world "off kilter" finding its way into our communities, our homes, and our relationships: women become collateral damage. And women find ways to fight back.
Research has shown that when women thrive, the standard of living and economic growth in their country improves. In redressing systemic inequalities that harm women, we shift the power imbalance, reduce violence, and allow women to fully participate in society. Women thrive who are safe from fear and violence. Now, more than ever, we as a society must scrutinize and remove the systemic barriers that impede the progress of women and foster violence within cultures.
And yet there is light. Women like Jacinda Ardern, Angela Merkel, and, most recently, Kamala Harris are fighting their way into positions where they can make change. They bring balance and representation to the hallowed halls of power where women have long been shut out, each woman leaving a legacy of hope in her wake.

Across mother earth women march, we flee, we listen, we cry out, we protest. We use our voices and our bodies to fight for change. Women survive.
Debbie Langston is the Chairperson of the PEI Advisory Council on the Status of Women.
---
Là où la violence persiste, ce que font les femmes
L'an dernier, nous nous sommes rassemblés pour souligner le 30e anniversaire de la tuerie de Montréal, où 14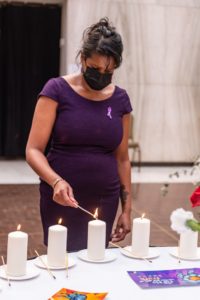 femmes, étudiantes à l'École Polytechnique, ont été assassinées parce qu'elles étaient des femmes. Notre activité de commémoration nous permet de rendre hommage à ces femmes et aux innombrables femmes qui ont été assassinées depuis ce jour en 1989. Aujourd'hui, le monde est très différent de ce qu'il était il y a à peine huit mois. Malgré tout cela, le problème de violence contre les femmes et de violence sexiste demeure d'actualité.
Le thème de cette année de la Campagne du ruban violet contre la violence faite aux femmes est « Soutien aux personnes survivantes ». Quand nous pensons aux survivantes, nous pensons aux femmes qui ont été blessées par de la violence directe, aux femmes qui ont été violées, agressées, abusées ou harcelées. Nous pensons aussi aux femmes qui ont été victimes de la traite et utilisées comme esclaves. Nous pensons aux femmes qui ont subi de la brutalité. Nous pensons à toutes ces femmes qui ont survécu.
La violence indirecte blesse aussi les femmes. Partout autour du monde, des femmes sont blessées par les systèmes mêmes qui constituent le fondement de nos sociétés. Les femmes ont dû se battre pour avoir leur place dans ces systèmes pendant des siècles. Nous continuons à lutter, à viser des changements importants qui permettront de garantir une place égale pour nos filles et les générations subséquentes de femmes.
Au cours des cinq dernières années, un homme qui a admis avoir agressé des femmes a été élu et est devenu le président de la démocratie la plus puissante au monde. Nous l'avons vu dénigrer les femmes et porter atteinte au droit à l'avortement : le droit d'une femme de prendre des décisions concernant son corps. Et nous avons manifesté.
Dans de nombreuses régions du monde, on voit des migrations massives, le tout dans un contexte de xénophobie, de nettoyage ethnique et de déplacement de la pauvreté. Des migrants ont cherché refuge dans des pays où ils sont emprisonnés, et où les enfants sont séparés de leur mère. Des femmes et leurs familles ont été forcées de quitter leur domicile en Syrie, au Myanmar et en Amérique du Sud. Des femmes ont fait face à des choix insoutenables pour protéger leurs enfants tandis que le monde détournait son regard. Et ces femmes ont fui.
Alors que le monde se réchauffe et que les efforts internationaux s'essoufflent, les effets du changement climatique sont bien visibles. Des inondations, des incendies et des conditions météorologiques catastrophiques ravagent notre planète. Des maisons sont détruites et des vies sont chamboulées. Une génération de jeunes fait face à un avenir rempli d'incertitude. En plein cœur de cette situation, des écolières se sont transformées en leaders. Et nous avons tendu l'oreille.
Pendant des décennies, nos sœurs autochtones ont souffert en silence et leurs voix ont été mises en sourdine par l'oppression et le racisme systémique. Des proches sont disparus et ont été assassinés; leurs communautés et leurs familles ont été décimées par la violence perpétrée contre les femmes. Des promesses ont été faites et ont été rompues. Les histoires n'ont pas été racontées dans les médias, les crimes n'ont pas fait l'objet d'enquêtes et la valeur des vies a été ignorée. Et cette situation a été dénoncée.
L'année 2020 est une année marquante dans l'histoire. Une pandémie a mis en lumière les inégalités qui sont demeurées cachées sous nos yeux pendant bien trop longtemps. La COVID-19 a permis d'exposer un système patriarcal plein de défauts où la discrimination et l'oppression sont monnaie courante. Les membres les plus vulnérables de notre société, les personnes ayant le plus de besoins, ont fait face au chauvinisme, à la misogynie, au racisme, à l'homophobie, à la transphobie, à la discrimination fondée sur les capacités physiques, à l'âgisme, à l'infini. Pour les femmes dont les identités se situent à ces intersections, les défis sont d'autant plus grands. Les risques de pauvreté, de marginalisation, de torts et les risques de violence s'accroissent chaque fois que l'on exhibe une caractéristique qui est différente de la majorité de la population.
Dans cette année marquée par des événements tragiques, on a aussi connu une tuerie à Portapique en Nouvelle-Écosse au cours de laquelle un homme ayant des antécédents connus de violence et de comportement agressif a assassiné 22 personnes; sa copine ayant longtemps souffert étant l'une de ces nombreuses cibles. En cette année historique, le mouvement « La vie des Noirs compte », soulevé par la brutalité policière et les meurtres documentés par caméra, est devenu une protestation mondiale pour amener des changements, et encore une fois, les vies des femmes ont subi des répercussions et la dévastation qui s'en est suivie. Voilà les effets d'un monde en déséquilibre qui se manifestent dans nos communautés, nos maisons et nos relations : les femmes y subissent des dommages collatéraux. Et elles trouvent des moyens de se défendre.
La recherche a montré que lorsque les femmes progressent, le niveau de vie et la croissance économique dans leurs pays s'améliorent. En redressant les inégalités systémiques qui font du tort aux femmes, nous rééquilibrons le pouvoir, nous réduisons la violence et nous permettons aux femmes de participer pleinement à la société. Les femmes s'épanouissent lorsqu'elles n'ont plus à vivre dans la peur et la violence. Maintenant plus que jamais, en tant que société, nous devons examiner minutieusement les barrières systémiques qui gênent les progrès des femmes et qui créent un environnement favorable à la violence dans les cultures.
Malgré tout, il y a de l'espoir. Des femmes comme Jacinda Ardern, Angela Merkel et, plus récemment, Kamala Harris luttent pour se trouver dans des postes où elles pourront agir sur la société. Elles amènent un équilibre et une représentation dans les sacro-saints lieux de pouvoir où les femmes ont si longtemps été exclues, et chacune d'entre elles laisse un héritage d'espoir dans son sillage.

Partout sur la Terre mère, les femmes manifestent, nous fuyons, nous écoutons, nous dénonçons, nous protestons. Nous utilisons nos voix et nos corps pour lutter pour du changement. Les femmes survivent.
Debbie Langston préside le Conseil consultatif sur la situation de la femme de l'Î.-P.-É.
Related Links: