The PEI Advisory Council on the Status of Women has adapted the annual Purple Ribbon Campaign Against Violence Against Women. Purple ribbons and cards will be replaced this year by badges, available by request for contactless pick-up.
And of course, if you have one, we encourage you to wear your purple ribbon from years past with pride and conviction!
Wear your purple ribbon during the UN's 16 Days of Activism against Gender-Based Violence (November 25 to December 10, 2020) and keep it for PEI's Family Violence Prevention Week (February 14 to 20, 2021).
The PEI Advisory Council on the Status of Women asks allies and supporters to help distribute the badges within their communities in support of survivors of gender-based violence. Distribution begins after Remembrance Day. Please contact the Advisory Council to request your badges.
*************************
Le Conseil consultatif sur la situation de la femme de l'Î.-P.-É. a adapté la campagne annuelle du ruban violet contre la violence faite aux femmes. Les cartes et les rubans violets seront remplacés par des badges que l'on peut se procurer sur demande et qui peuvent être obtenus sans contact.
Et, bien sûr, si vous en avez un, nous vous encourageons à porter votre ruban violet des années précédentes avec fierté et conviction!
Portez votre ruban violet durant les 16 jours d'activisme contre la violence fondée sur le sexe des Nations Unies (du 25 novembre au 10 décembre 2020) et conservez-le pour la Semaine de la prévention de la violence familiale de l'Î.-P.-É. (du 14 au 20 février 2021).
Le Conseil consultatif sur la situation de la femme de l'Î.-P.-É. demande à ses alliés et sympathisants d'aider à la distribution des badges dans leurs communautés pour appuyer les survivants de la violence sexiste. La distribution commence après le jour du Souvenir. Veuillez communiquer avec le Conseil consultatif pour demander vos badges.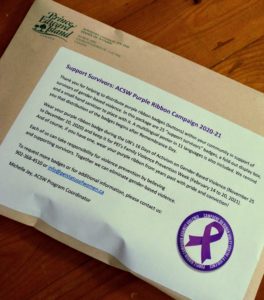 ---
Montreal Massacre Memorial Video
---
Multilingual Poster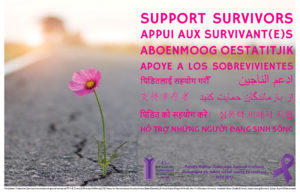 Download PDF:
---
Related Links/Webpages:
---
Commentary/Commentaire
---
Thank you to the 2020 contributors to the Purple Ribbon Campaign for generous assistance.
(Updates to this list will be added as confirmed)
Premier's Action Committee on Family Violence Prevention (PAC)
City of Charlottetown
Confederation Centre of the Arts (Venue Sponsor)
Federated Women's Institutes of PEI