For decades we have gathered as a community to honour the lives of women that have been lost to violence. The PEI Advisory Council on the Status of Women continues to make modifications and adaptations to ensure safety and comfort during COVID. This year, the in-person event is by invitation only due to COVID limitations.
We acknowledge there are many people who could light a candle or want to be physically present with us to remember the murdered women. Some would light a candle for personal reasons. Some would light a candle because of their professional role. Each year, a selection of leaders, front-line workers, and organizations that have played a special role in the Purple Ribbon Campaign light candles on all our behalf. We also hold space for family members and friends of the murdered women who want to light a candle in remembrance of their loved ones.
You are invited to view the Charlottetown Memorial Service in a livestream event on the PEI Advisory Council on the Status of Women Facebook page: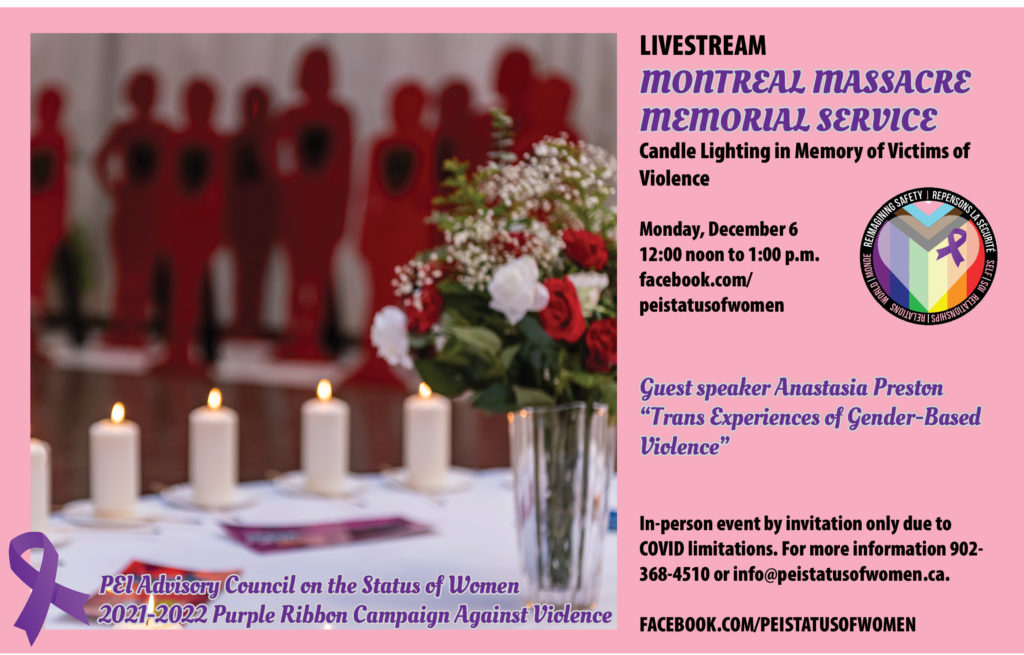 The 2021-2022 Purple Ribbon Campaign theme is "Reimagining Safety: self * relationships * world." As we continue to adapt to the COVID-19 pandemic, we encourage everyone to imagine what true safety for all people, of all genders, can look like. We urge Islanders to envision and work towards a world where equality is the norm and all beautiful diverse expressions are included and celebrated.
The purple ribbon bookmark has an image of the PRIDE Progress Flag incorporated in its design, signalling the need to appreciate and include all gender identities and expressions. The bookmark is pink this year, declaring our re-embracing of a much-maligned feminized colour! Wear your ribbon and use your bookmark with pride!
We remember the 14 women murdered at l'École Polytechnique in Montreal because they were women. We remember the 10 women in PEI who have been murdered by men who knew them since 1989. We remember the 1000's of Indigenous women and girls who have been murdered or are missing across Canada. We mourn for everyone who is a survivor, and for all those whose lives are harmed by violence.
We remember. We mourn. We commit to ACT so that violence against women ends.

MEMORIAL SERVICES FOR VICTIMS OF VIOLENCE
CHARLOTTETOWN LIVESTREAM SERVICE
Montreal Massacre Memorial Service
Monday, December 6, 2021
12:00 noon to 1:00pm
facebook.com/peistatusofwomen
Memorial Service Program (PDF)
You are encouraged to have a candle or light in the space with you when you watch the livestream.
Guest Speaker:
Anastasia Preston
"Trans Experiences of Gender-Based Violence"
In-person event is by invitation only due to COVID limitations.
Later in the day on December 6, the Livestream will be posted on our Vimeo webpage at the following link (as long as everything works as we hope it will!): https://vimeo.com/peiacsw
– 2021 Montreal Massacre Memorial Service, Charlottetown, PEI (Recorded Livestream)
For more information, call 902-368-4510 or email [email protected]

December 6, 2021 Commentary / Commentaire by Chairperson Cathy Rose
Related Links
Remembering victims of gender-based violence,
32 years ago, 14 women were killed at École Polytechnique in Montreal. Today Islanders gathered in Charlottetown for an annual memorial, CBC PEI Video, Dec 6, 2021
Montreal Massacre memorial in P.E.I. reimagines safety, December 6, 2021 Saltwire/The Guardian
Summerside singer-songwriter says memorial for victims of violence against women hits close to home, December 6, 2021, Saltwire/The Guardian
---
SUMMERSIDE IN-PERSON SERVICE
Montreal Massacre Memorial Service
Monday, December 6, 2021
at 12 noon
Presbyterian Church
130 Victoria Road
Summerside
Please Note: Masks, Vax passes, and ID are required.
Guest Speaker:
Lori Hiscock
Executive Director
Lifehouse, Summerside Women's Shelter
Facebook Event-National Day of Remembrance:
https://www.facebook.com/events/418985396600126

For more information, contact EPWIC 902-436-9856 / [email protected]