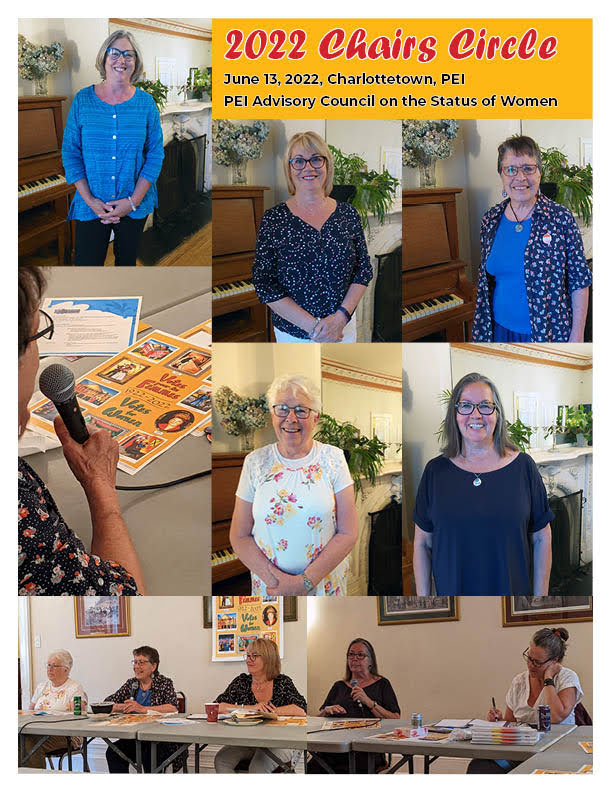 After a few last-minute regrets, four past Chairpersons of the PEI Advisory Council on the Status of Women were able to join current Chairperson Cathy Rose and Council staff for the annual Chairs Circle roundtable. The five participating Chairs represented five decades of Council work, with the gathering including one Chair each from the 1980s, 1990s, 2000s, 2010s, and 2020s. As one Chair said, "I always feel good when we meet together as women."
Because 2022 marks the centennial of non-Indigenous women in PEI winning the right to vote, the Chairs looked back a hundred years—and forward a hundred years. The Chairs considered milestone moments and signature achievements towards gender equality—those past and those yet to come.
To begin the conversation, Cathy shared the image of the poster "Votes for Women" created for the 100th anniversary of gender being removed as a barrier to voting in PEI. She invited past-Chairperson Mari Basiletti, who created the poster artwork and design with her partner JoDee Samuelson, to talk about the stories and experiences that inspired their artwork. The poster features a vignette for each of the ten decades of the past century of women's political and social participation. Considering the path to suffrage and the ongoing local and international struggles for inclusion in the democratic world, Mari commented, "Women are resilient and so strong-minded. We were, and we are."
One past Chair had male violence on her mind, from violence in intimate partner relationships to recent mass shootings in schools in the US to the Russian invasion of the Ukraine. "It is a sad reality that women are still being killed for being women, and that women are still being used as a weapon of war." Another Chair agreed, "We have to work with men on violence—it is part of their responsibility." Another's dream for the next 100 years was "Peace on earth," nothing more, and nothing less.
Another remembered the feeling in the 1970s that if only people knew about woman abuse or childhood sexual abuse or all the other issues women were working on, everyone would act, and the problems would be solved. It is discouraging that wasn't the case. "We have to carry forward, and try new ways. … We can do things working together, like we can, like we do." She continued, "Women in our communities have great ideas. I think of women friends who make things better for seniors in their lives, and of our communal care for each other."
Another Chair saw work for equality like ocean waves, that sometimes were too high and swamped the boat, and that sometimes receded and "disappeared." "I want to see [the equality wave] come back, but in a different way," she said. She noted, "The reality of most women's lives is that we do more than our share at home." While she has seen some change in her lifetime, she also sees the need for governments to "provide supports and services people need, not just let it be on the backs of women." She said, "It is a terrible strain on women as a whole." We are still not valuing childcare and still not valuing women's work, for the most part, she felt.
Another Chair reflected on the challenge of women facing war, how tough it is for a lot of people at the moment, and that "women are at the heart of families." The situation of refugees and migrants escaping war made her reflect on her immigrant mother's experience post-war and the need to support people's basic needs: "a place to live, food security, a basic income." She worried about our community's seniors who have seen and survived so much and worked so hard throughout their lives, now having so little caregiving support and so few options for long-term care—in manors or in the community—because providing care is so undervalued.
The Chairs discussed opportunities for women, including the importance of women in the trades. One Chair said, "Education is the key to women's financial independence." Another worry for young people "loaded with debt at the beginning of their lives when they are not earning a lot." Voter rrepresentation that is reflective of the population remains important to the Chairs. Engaging the power of the student vote to shape the future inspired one Chair. Civics education from elementary school on motivated another.
An Indigenous past Chair reflected on the extra 41 years it took, from 1922 to 1963, for Indigenous women to gain the right to vote in PEI. She was hopeful that in the future, Indigenous communities "could really improve outcomes and prove ourselves to be a force in a general election." She talked about the barriers created by years of colonization and exclusion: "apathy and hopelessness, that governments don't care about us anyway." In the future, she hopes when someone goes missing, they don't have to worry about negative outcomes and discrimination if they tell the police the missing person is Indigenous.
Several Chairs were pleased to see steps towards reconciliation in the provincial government. An Indigenous Chair agreed PEI is "trying to do it." She noted, wryly, "The federal government has taken a great deal of time to implement anything, and only under pressure… They make changes when they need to, and never before." Chairs wanted to see more Mi'kmaq place names on more signage across Epekwitk.
The need for better representation of women and excluded groups, at all levels of government, came up at a number of turns. The centennial poster includes an image of PEI's Famous Five women in government from the 1990s. Having five women in positions of such strong political influence has not occurred again since that historic moment in 1993. "I'd like to see the Tremendous 10 or the Terrific 20 in the Legislature in the future!" one of the Chairs said.
Another said, "I love politics. We have to start with gender parity, not just on the benches, but in leadership, and even in the back rooms." She worried about the attitude towards politicians, especially women leaders. "Why would you want to take the abuse?" she asked. Another said she was recently asked to run for politics, "But I am not going to." She said no, despite her belief in the importance of diversity in representation at the local, provincial, and federal levels. A Chair who had some past municipal political experience said her experience "was enough for me." She said, "We may have other things we want to do and accomplish." She said, "I am not sure what needs to change so that women are excited about political leadership again … We need to change the game of politics. Incremental change, change from the inside, is still not getting [diverse candidates] to the table. No, we need a new table."
Chairs were conscious that "equality gains can be lost. We have to be vigilant." One Chair reflected that this is also the case for the 2SLGBTQIA+ community.
One Chairs Circle participant said, "There is still a lot of hope. We just have to find it." In conclusion, another Chair found hope in the Advisory Council on the Status of Women itself. "The Council has teeth, looking at policy, equity, and inclusion," she said. "The Council is being asked to participate in many things, and is being listened to. … There's a lot of influence and impact." A closing comment was, "We have been keeping faithful in tough times and looking forward to our 50th anniversary of the Advisory Council on the Status of Women in 2025."
"There is still a lot of hope. We just have to find it."