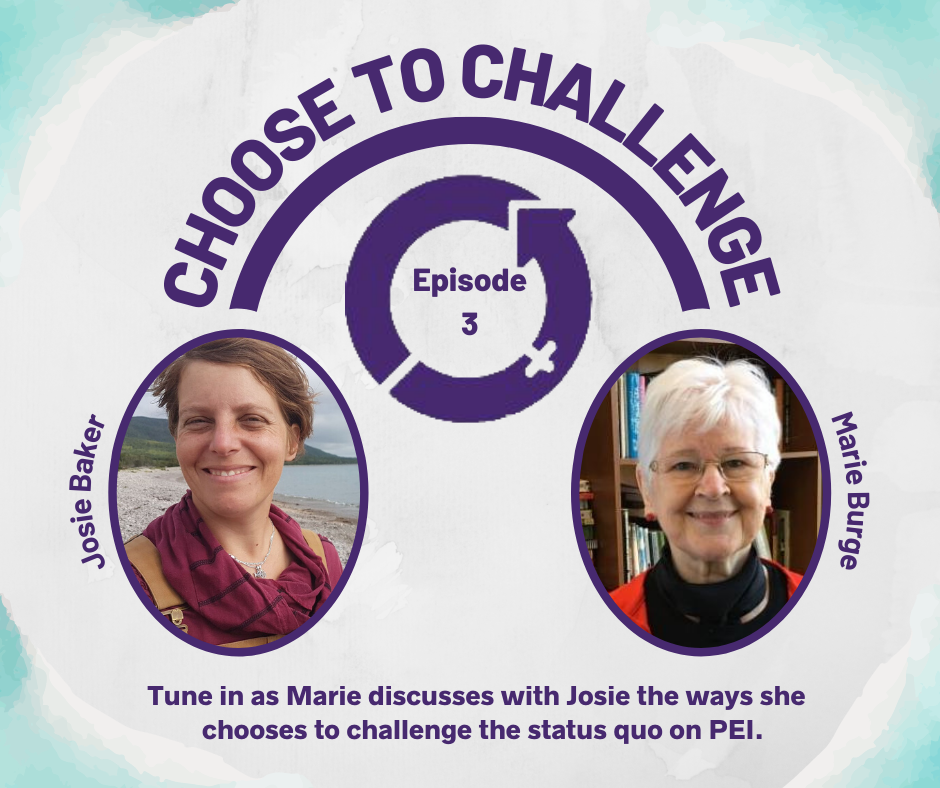 These two social justice leaders take a long view of how change is made and what sustains a lifetime of commitment:
Challenge the status quo by example, and challenge systems not people.

Algun dia=commitment to long-term generational goals: "I may not see the outcome of my work, but I do this for my children's children."

Hope is a willingness to act, to be committed to big goals like Basic Income Guarantee.

Fervent belief in the goodness of the earth and of human beings.

Social justice is a collective work, and a cosmic movement.
Their bios: 
Marie Burge is a staff person and a founder/member of Cooper Institute Collective (1984) and has about fifty years experience working on issues of social justice—both in PEI and in the Dominican Republic. She is a program coordinator for Cooper Institute. Currently the main programs she works on are: Basic Income Guarantee, the Protection of PEI Lands, and Proportional Representation for PEI. All of these involve organizing and implementing, with others, specific community development and engagement programs to facilitate citizen/resident involvement to influence public policy. She is involved in the preparation of information, interactive workshops, media work, and efforts to engage politicians in the various issues. She emphasizes that the strong voice of the community is the most essential and necessary aspect of social change.
Marie /Cooper Institute is one of the original members of the PEI Working Group for a Livable Income (2003), which from the beginning has proposed guaranteed basic income as a long-term national solution to impoverishment and marginalization. The Working Group adopted Basic Income Guarantee as its core campaign in 2013. Marie is the PEI representative on the national NGO, Coalition Canada: basic income/revenu de base formed in 2019.
She also works on issues relating to food sovereignty and immigration. She is a member and plays supporting roles with the Latin American Mission Program (LAMP), and with National Farmers Union (NFU). She is a passionate supporter of Lennon House.
Josie is passionate about social justice, and has been active as an organizer on issues ranging from migrant worker advocacy, to food sovereignty, to feminist organizing. Her academic background is in feminism, community development, and adult education. Since 2010 Josie has been a member of the Cooper Institute Collective. She recently returned to PEI after serving 3 years as executive director of the Tatamagouche Centre in Nova Scotia, a social justice centre for transformative adult education. Josie's other interests are gardening, food preserving, amateur mycology, and the transformative potential of roleplaying games as a tool for building community.