Research Coordinator – Permanent Part-Time Position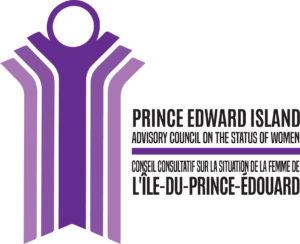 Are you passionate about promoting gender equality and women's empowerment? Do you have excellent research skills and a strong background in communicating information for public education? If so, we have an exciting opportunity for you to join the PEI Advisory Council on the Status of Women team as a Research Coordinator.
About the Organization
The PEI Advisory Council on the Status of Women (PEIACSW) is a provincial government advisory body dedicated to advancing gender equality in Prince Edward Island (PEI), Canada. The PEIACSW has a mandate to advise the provincial government and educate the public on issues related to the status of women-identifying people. The Advisory Council's nine government-appointed members are selected from among diverse PEI women who have demonstrated a commitment to gender equality. The Advisory Council on the Status of Women's staff team currently consists of two full-time and one part-time employees; the Council is eager to add a new part-time employee to the team.
Position Overview
As Research Coordinator, you will play a crucial role in supporting the Council's research initiatives. You will work closely with the Council's members and community partners to conduct community-based research, analyze data, and develop evidence-based recommendations and reports. Your work will contribute to shaping policies and programs that address the needs and concerns of women-identifying people in PEI.
Detailed Job Description
RESEARCH & COMMUNICATIONS
Coordinate Council research and community consultation in support of policy and programming work (including events, publications, and so on), including, for example:

Respond to Council priorities for research, and design methodologies
Identify sources of knowledge, information, and data
Plan and lead interviews, focus groups, surveys, or other data collection
Collect, record, and analyze data using appropriate statistical tools and techniques
Prepare research results for Council members and diverse audiences

Contribute to external communications on behalf of Council, particularly presenting research findings and coordinating knowledge translation for public education
Stay updated on current research, good practices, and emerging trends related to gender equality
Assist in communications between the office and the Council, as needed
Assist in preparing materials for Council meetings, as needed
Assist in preparing materials for government and ministerial liaison, as needed
PROGRAMS AND SERVICES
Coordinate research and/or consultation for projects and events (both program-related and policy-related)
Contribute to research and communications aspects of the Equality Report Card and other policy-focused Council-led projects
Contribute to research and communications aspects of the Purple Ribbon Campaign, Montreal Massacre Memorial Service, International Women's Day, and other Council-led programming
Serve on external committees and do project work related to the mandate of Council, with an emphasis on research and communications, as needed
Support Council engagement and development, as needed
Contribute to project and program evaluations, as needed
Assist with client inquiries, as needed
COUNCIL
Participate in Council meetings and take Council minutes
Participate in performance review processes
Support Council diversity in recruitment
Assist with filing and information systems, including records management
Share in office support
FINANCE
Manage budget for research and consultations, as needed
Contribute to fundraising/grant writing, as needed
Qualifications
The successful candidate's experience will include
A post-secondary degree or equivalent experience
Demonstrated skills and experience coordinating research
Strong knowledge of research methodologies and data analysis techniques, especially related to qualitative and/or community-based research
Excellent written and verbal communications skills in English, with an ability to present complex information in a clear and accessible manner (capacity in French and/or additional languages an asset)
Experience applying gender and diversity lenses to research
Familiarity with the social, economic, cultural, and political landscape of PEI and understanding of gender issues in the province
Strong facilitation and interpersonal skills and ability to work collaboratively
Commitment to working with feminist principles and process
Experience working with a range of office softwares and systems; proficiency with Microsoft Office Suite (familiarity or experience with Adobe Creative Suite an asset)
Creative approaches to problem-solving
Experience with any of the following would be assets. Internal and/or external opportunities for training in these skills may be available:
Document layout for publication
Event and program planning
Program evaluation
Office/administrative support
Benefits
Salary: $28.00 to $30.00/hour starting wage, plus health and pension benefits; supportive workplace policies, including paid sick days and vacation
Schedule: Part-time (guaranteed 19 hours per week); flexible work hours may be negotiated
Location: 161 St. Peter's Road, Charlottetown. Primarily in-office; some remote work hours may be negotiated
Start date: September 5, 2023, or as early as possible following
Application Process
Open to applicants of all genders. The PEI Advisory Council on the Status of Women recognizes and values lived and living experiences. Applicants from groups that have faced systemic barriers to employment and structural exclusion and discrimination are encouraged to apply for this position.
To apply, please submit the following to [email protected]:
A cover letter outlining your interest in the position and relevant qualifications.
Your updated resume, including details of your education, work experience, and technical skills.
Application deadline: 4:00 p.m. Monday, August 21. Please provide clear contact information: follow-up communications will be by email. Only short-listed applicants will be contacted for an interview.
Applicants who are invited to an interview will be notified by 4:00 p.m. Thursday, August 24. Each selected interviewee will be eligible for an honorarium considering their time, caregiving expenses, and in-province travel costs to participate in the interview.