International Women's Day "Break the Bias"
IWD 2022 – CHAIRPERSON'S MESSAGE
LISTEN TO ALL EPISODES HERE! anchor.fm/PEIBreaktheBias
OR ON SPOTIFY HERE: https://open.spotify.com/show/1H1tGjGZTFzciHvB8zlMQW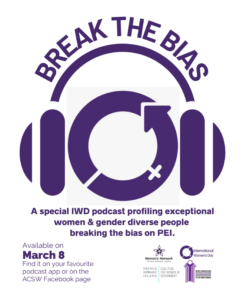 EPISODE 1: Journalist Kate McKenna and artist Kinley Dowling discuss gender-based violence, activism and art, while giving us a glimpse into the advocacy and efforts that went into an investigation on drink spiking incidents that they collaborated on in Fall 2021.
EPISODE 2: Journalist Jane Robertson and early childhood educator Jay Baglole talk about gender expression, gender transitions, parenting, and progresses in 2SLGBTQ+ advocacy.
EPISODE 3: UPEI Researcher and Native Council "Leading the Way" facilitator Dawne Knockwood talks to Native Council Elder and MMIWG Program Coordinator Sarah Stewart-Jackson about Missing and Murdered Indigenous Women, Truth and Reconciliation and decolonization.
EPISODE 4: Community archivist and descendant from the Bog Linda Hennessey speaks with Camp Furaha co-founder Millie Langston about the importance of recording history, black history on PEI, and being Black on PEI. 
 —-
The IWD organizing committee brings advocacy and celebration online in 2022 with a special podcast series. Four (4) pairs of exceptional women and gender diverse people will share their experiences and perspectives of "breaking the bias" in PEI.
Each podcast will feature a conversation between two members of the community who through their actions, analysis, lived experiences, and intersecting identities inspire us.
Some of the topics for discussion will include trans experiences, Black Island history, perspectives on Indigeneity and reconciliation, women as caregivers, art, activism, and justice for survivors. They bring journalistic skills, community activism, and courage to the challenge.
All of the podcast recordings will be made available on March 8th, International Women's Day – the day we join women and gender diverse people worldwide in calling for gender equity and justice for all!
The podcast series will be accessible on the PEI Status of Women Facebook page: facebook.com/peistatusofwomen or at anchor.fm or wherever you get your podcasts.
Listen. Learn. Light a fire to break the gender bias.
Related Article:
Thank You…
A big thank you to everyone who helped create the International Women's Day 2022 podcasts to "Break the Bias!"
Heartfelt appreciation to:
Sponsors
Union of Public Sector Employees
Public Service Alliance of Canada
Canadian Union of Public Employees
PEI Federation of Labour
Allies and Partners
Women's Network PEI
Cooper Institute
Coalition for Women in Government
Interministerial Women's Secretariat
IWD Organizing Committee
Molly Williams
Sweta Daboo
Donna Dingwell
Michelle Jay
Podcast Conversations
Kate McKenna x KINLEY Dowling
Jane Robertson x Jay Baglole
Dawne Knockwood x Sarah Stewart Jackson
Millie Langston x Linda Hennessey
And thank you to Cathy Rose, our esteemed Chairperson, Council members of the Status of Women, and to Council staff – Jane and Becky and Michelle.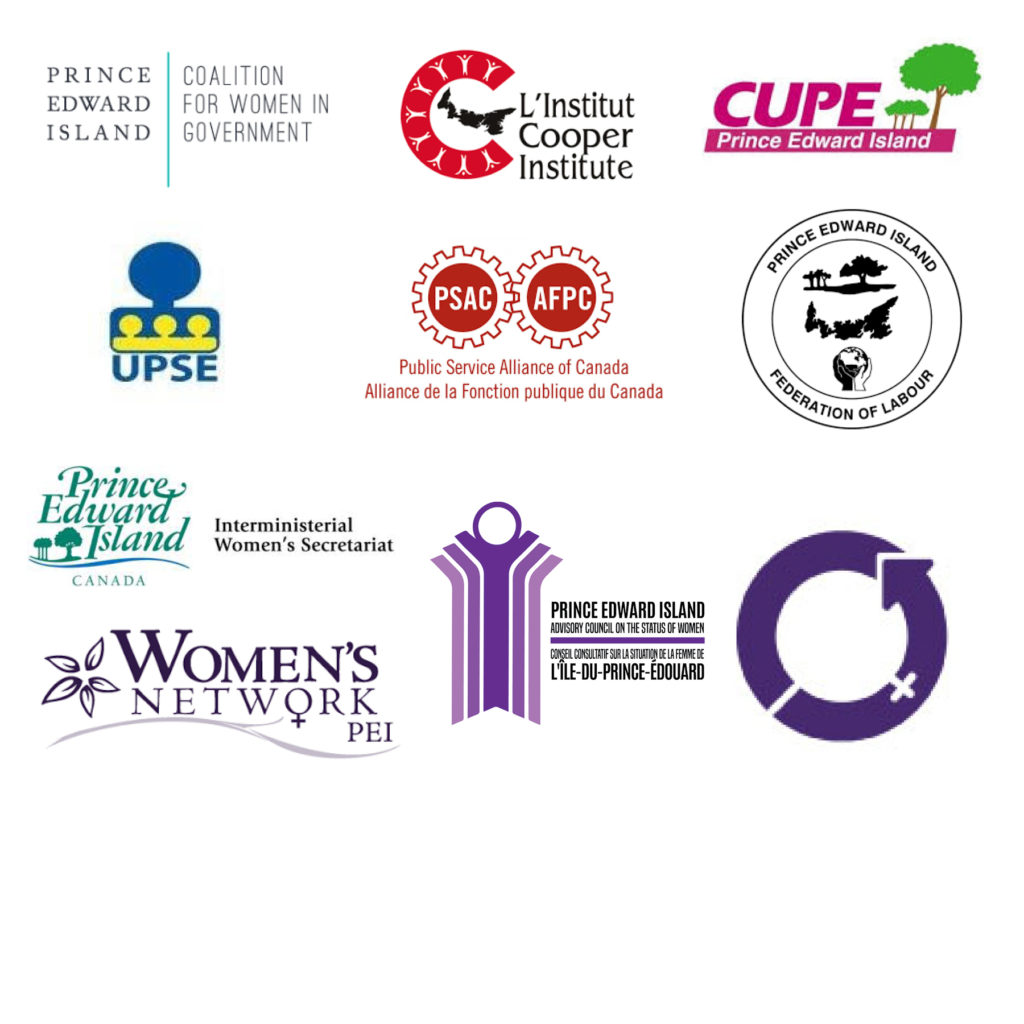 ---
International Women's Day 2021 Podcasts
The IWD's organizing committee brought advocacy and celebration online in 2021 in a special podcast series featuring five exceptional women and gender-diverse people sharing their perspectives and experiences of "choosing to challenge." Each person was interviewed by another inspiring member of the community, celebrating Island leaders who are contributing their passion, skills, experiences, and choices to advancing gender equality.
"Choosing to Challenge" is especially relevant when we reflect back on this year of challenges related to the COVID-19 pandemic, and the inequalities that the pandemic and our responses to it have exposed. Many of the most glaring challenges worldwide have the greatest impact on women, girls and gender diverse people. We continue to challenge for the rights to safety, choice, participation in decision-making, and access to substantive equality for everyone, everywhere.
You can listen to the podcasts here or find it on your favourite podcast app.
Links to the 2021 individual podcast episodes are available here: https://peistatusofwomen.ca/2021/03/08/iwd-2021-choose-to-challenge-podcast/